Last Updated September 21, 2023. The 2023 PFD is $1,312.

Note: This page will be updated in real-time as any new information about the PFD becomes available each year, including dates and times of any announcements.
Does this page look familiar? That's because it probably is. I've been updating this PFD information page since 2008. As a lifelong Alaskan, the dividend is, of course, on my list of interests. As a website owner, I thought, why not add a news and update page for the PFD?  At the very top of this page, you'll always see a "last updated" message to verify all info is current and from this year.
Quick Navigation:
2023 PFD announcement time
What's happening with the PFD?
How much will the 2023 PFD be?
When will the 2023 PFD be paid?
What's happening with the prior-year PFD backpay?
How much should the PFD have been in prior years?
PFD projections
When will the 2023 PFD be announced?
The amount of the Alaska permanent fund dividend is usually announced in mid-September, typically the 18th to 22nd sometime. However, from 2017 to 2021 there was no announcement. Just a randomly appearing note on the PFD division website. In 2017, it appeared on September 4th,  in 2018 on September 14th, in 2019 on September 27th, in 2020 on June 12th (as the dividend was paid July 1st), and in 2021, the amount was published by the Alaska Department of Revenue via a media advisory on September 30th. The PFD website updated with the amount the following day. The release was delayed as a result of legislative action that also delayed the PFD payment. The 2022 PFD amount was announced September 8th by Governor Dunleavy, but in 2023, the amount was again unceremoniously posted on the PFD division's website and social media (September 21st).
What's happening with the PFD? How did it get cut?
As the state faces a budget "crisis," attempts to restructure the PFD program to fund government services continue.
Former Governor Walker's push for the PFD began with SB128 in 2015, which passed in the Senate, but failed to pass in the House and was deemed "dead" as the session ended. However, Walker was on a mission to cut into the PFD…
In June 2016, he vetoed a portion of the PFD funding on the state budget, limiting the 2016 PFD to $1,000. That had never been done before, but any veto can be overridden by the legislature with a majority vote.  Nonetheless, they did not use that power, and the veto stood.
There was a court case filed by Bill Wielechowski, along with former Republican Alaska state Senate presidents Clem Tillion and Rick Halford, which attempted to challenge the legality of this veto. A verdict was awarded in the state's favor by Judge William Morse. Wielechowski  filed an appeal with the Supreme Court, but that verdict upheld the superior court's decision.
Walker's 2017 budget proposal included a new (nearly identical) bill to SB128. This, and other bills like it, struggled for passage and remained undecided as the legislative session (and extensive special sessions) came to a close. Regardless, the operating budget did pass in both the House and Senate. This budget capped 2017 PFDs at $1,100.
On May 8, 2018, SB26 passed the legislature. It capped withdrawals from the fund at 5.25 percent before dropping to 5 percent in 2021. It did not affect the statutory dividend formula (which is still being ignored).

Walker withdrew from the 2018 gubernatorial election, and Mike Dunleavy took office December 3, 2018.
In 2019, Dunleavy presented a drastically reduced budget, which the legislature ultimately rejected almost entirely, instead using Walker's previous budget proposal. After a budget debate that nearly shut down the state government, the legislature eventually submitted a budget compromise that did not include a PFD at all, suggesting the 2019 PFD would be placed in a separate bill. That budget was signed by the Governor with extensive vetoes.
The PFD then became a major political issue as many sources began to sell the narrative that the large budget vetoes issued by Dunleavy were "to pay a bigger PFD." Lawmakers were called to a special session focused solely on the PFD in July 2019. HB2001, which reversed a great deal of the budget vetoes and included the PFD, was the result of that session. While the exact amount of the PFD was not set in HB2001, the total amount for all PFDs was, which resulted in a payment of $1,606 per person.
Dunleavy could have vetoed the PFD funds and continued to fight for the full amount, but this would have resulted in a late payment or no payment of the 2019 PFD. Given this, Dunleavy didn't veto the PFD from HB2001, stating he would continue to fight for the remaining funds in another special session. That special session did not take place, and the regular session began in January 2020 as usual.
Dunleavy's budget plan for fiscal year 2021 did include a full PFD. He also submitted a budget amendment calling for a supplemental appropriation that would have payed out an additional $1,306 to cover the shortage from the 2019 PFD in February 2020. The bills for that supplemental payment (HB259 and SB205) were referred to the respective finance rules committees and never moved forward.
In March 2020, in response to COVID-19 economic fall-out, Dunleavy requested that the legislature release the $1,306 remaining from the 2019 PFD in April and issue a payment from the 2020 PFD early (~$1,550 in June) with the remaining amount to be paid in October via an amendment to the operating budget. These proposals were not approved by the legislature.
The Senate approved a slightly reduced version of the proposed 2019 back pay amendment, calling it a "supplemental" PFD at $1,000 rather than $1,306. However, that failed to pass in the House and was later removed from the budget in committee negotiations. No action was taken on the early PFD payment suggestion. Despite attempts in both the House and Senate to fund a full PFD, a budget passed both bodies that only included enough funding for a dividend of around $1,000.
Dunleavy signed that budget, which, after applications were processed, set the 2020 PFD at $992. He then moved the PFD payment date from October to July. That was an early, not additional, payment. Although Dunleavy stated during a virtual town hall meeting that he was still in discussion with the legislature regarding a second PFD payment in October, that payment was never approved.
In December 2020, Dunleavy released his Fiscal Year 2022 budget, which included an additional $1,916 from the 2020 PFD to be paid around March, as well as a fully funded 2021 PFD at approximately $3,056. This budget, of course, required approval from the legislature. The regular session began in January 2021 and ended in May. No action was taken on the Spring PFD proposal. It remained in committee when the session closed.
Dunleavy proposed SJR 6 in May 2021, which suggested a change in the formula used to calculate PFDs moving forward with no less than 50% of any money that comes from the fund going to dividends and called the legislature into a special session beginning May 20th, which focused on the PFD.
Before that session, the Senate passed a budget that included funds for a PFD in line with that which was proposed in SJR 6. The House did not concur, and the budget went to conference committee. The budget conference committee agreed to a $1,100 PFD. However, part of the funds for that payment were tied to what's referred to as the "reverse sweep," which requires a supermajority three-quarters vote.
That vote failed in both the House and Senate, reducing funds available for the dividend to around $525. The House also failed to pass an effective date for the budget, and Dunleavy stated in a press conference that he couldn't sign it as-is. The legislature began another special session June 23rd and officially passed the budget on June 29th. Dunleavy signed that budget but vetoed the PFD.
Another special session began August 16th to discuss the dividend and a long-term fiscal plan. Dunleavy submitted a new budget bill (HB3003) August 19th that allowed for a PFD of approximately $2,350 per the Fiscal Policy Working Group's recommendation. During the legislative approval process, the House reduced the PFD in HB3003 to $1,100, which passed both the House and Senate. Dunleavy signed the bill on September 15th but called the legislature back into session to, in his words, "get the rest of this year's PFD."
That special session was held from October 4th to November 3rd. Among the bills heard were HB4001/SB4001 put forth by the governor for a second PFD payment. This second payment would have amounted to roughly $1,200 per recipient. HB4001 remained in the House Ways & Means committee and SB4001 in the Senate Finance Committee as the special session ended. Dunleavy did not schedule a 5th session. However, his FY2023 proposed budget, released December 2021, included funding for the second payment (approximately $1,200) along with a roughly $2,564 PFD.
During the 2022 regular session, Dunleavy released a supplementary budget plan with amendments to his proposed budget, which provided slightly different estimates at $1,250 for the spring payment from the 2021 PFD and $2,500 for the 2022 PFD. The legislature heard a range of PFD bills in addition to this budget, many focusing on different payment formulas, but none passed.
You can view a full list of bills relating to the PFD here. The most recent regular legislative session began January 17th and ended May 17th, 2023. A special session began May 18th and ended the following day.

How much was the 2022 PFD?
In April 2022, the House passed an operating budget (HB281), which included a  $1,300 "Energy Relief Check" similar to the one paid by Sarah Palin in 2008 that would be paid alongside a 2022 PFD of roughly $1,250. The Senate later amended that budget to include a $4,200 PFD, but the House did not concur with the Senate's version, and the budget went to a joint conference committee for negotiation.
That committee settled on a total payment of around $3,850, but due to the chosen funding source, part of those funds required a majority vote, which failed, reducing the energy relief payment by $650. The final operating budget, which was signed by the Governor June 28th, included a roughly $2,550 PFD and around $650 in energy relief. This resulted in a total payment of $3,284.
Special note on 2022 PFD federal tax filing:
February 10, 2023, the IRS released guidance on what they refer to as "general welfare and disaster relief payments" issued by some states, announcing that these payments are tax-exempt (meaning you don't need to report them on your federal tax return). The $662 Energy Relief payment that was included with the 2022 PFD falls under this classification. Unfortunately, the PFD Division had already issued 1099-MISC forms (an example of which is pictured below) when this announcement was made and reported the full amount in box 3. The taxable portion of the 2022 PFD is $2,622 ($3,284 – $662). Those who have already filed may amend their return.
How much will the 2023 PFD be?
Dunleavy released his Fiscal Year 2024 (FY24) budget proposal December 15th, 2022, which included a full statutory PFD payment based on the 1982 formula that has been ignored since 2016. In a press release, the governor estimated this would equate to a roughly $3,800 2023 PFD. However, the budget requires legislative approval. In late April, the House passed it's first version of the budget, which included a $2,700 PFD (stated to be a 50/50 split of the draw), while the Senate proposed a $1,300 PFD (a 75/25 split).
The regular session ended May 17th, and a special session began the following day during which a negotiated budget passed both bodies with the lower $1,300 figure. Transmission of that bill to the governor was delayed by manifest errors, but finally reached Dunleavy's desk on June 13th. He signed the budget on May 18th, releasing the details to the press on May 19th.
After accounting for the number of applicants, the 2023 PFD amount settled at $1,312.

When will the 2023 PFD be paid?
Dividend payments typically begin to disburse by direct deposit in early October. However, those who filed a paper application or requested a paper check may see a slight delay (rarely over a week or two). The PFD has also been paid early twice in recent history. In 2020, payments began July 1st due to COVID-19 economic fall-out, and in 2022 payments began September 9th due to extraordinarily high fuel costs. According to the Permanent Fund Division website FAQ, the 2023 PFD will begin to disburse by direct deposit on October 5, 2023.
Will the 2023 PFD include an Energy Relief payment?
The operating budget included a provision that could allow for an Energy Relief payment, but it comes with stipulations and wouldn't be paid until 2024. Specifically, the payment will only be made if North Slope oil prices exceed the projected $73-a-barrel average between July 1, 2023 and June 30, 2024. Any additional revenue generated by higher oil prices would be split 50/50 between the Constitutional Budget Reserve and the bonus payment, which is capped at $500. When the payment would be made isn't clear, but given the qualifying period, it would be after June 2024 and may even be added to the 2024 PFD distribution.
What about back pay for 2016 to 2022 PFDs?
Dunleavy ran a campaign that focused heavily on the PFD, which promised to not only restore the previous calculation method and ensure it's followed in the future but also to return funds withheld in prior years. When this back pay would be delivered (should it actually be paid) is also not clear, but in an interview, Dunleavy stated no payment could be issued without legislative action. Dunleavy does not have the power to issue back pay without legislative approval.
In a press release regarding SJR 6 in 2021, Dunleavy reiterated that any back pay was still in the hands of the legislature. Thus far, despite multiple bills/amendments made by Dunleavy and other legislative members since 2018, no effort to pay back prior PFDs has made significant traction.
PFD payment in land?
In February 2020, Dunleavy also presented a PFD land voucher bill. The bills (HB270/SB217) would have allowed those receiving a PFD to claim double the value of that PFD in a land voucher that could be used towards the purchase of state land. This program would have been optional. Those who prefer a traditional payout would have still been able to receive one.  These bills were left in committee.
How much would the 2016 to 2022 PFDs have been without the cap?
As many of us know, while the PFD is currently being calculated by dividing the amount available for distribution as set by the legislature by the number of eligible applicants, under statute the PFD should be calculated using the last five years of the fund's returns by:
-Adding the fund's Statutory Net Income from the last 5 years.
-Multiplying by 21%.
-Dividing by 2.
-Subtracting any prior-year obligations, expenses, and costs for PFD operations.
-Dividing by the number of eligible applicants.
Below are the statutory net income numbers (expressed as millions rounded) released by the Alaska Permanent Fund Corporation (APFC):

FY 2012 1,568-dropped off in 2017.
FY 2013 2,928-dropped off in 2018.
FY 2014 3,531-dropped off in 2019.
FY 2015: 2,907-dropped off in 2020.
FY 2016: 2,198-dropped off in 2021.
FY 2017: 3,214-dropped off in 2022.
FY 2018: 6,324-dropping off in 2023.
FY 2019: 3,305
FY 2020: 3,106
FY 2021: 7,962
FY 2022: 4,544
FY 2023: TBA (data is usually released on September 30th in the APFC Annual Report)
In 2022, about 625,912 eligible Alaskans received a PFD. As low years have fallen away, the fund should have offered high returns for residents over the next decade.
Just how high?
As it stands the PFD cuts have cost Alaskans about $11,332 per person—a major blow to families with kids. PFD estimates for the last seven years are as follows:
In February 2019, as part of a presentation to the Senate State Affairs committee, the Alaska Department of Revenue released the following graph. It shows PFD projections for 10 years based on expected returns if back pay was not paid (orange) and if it were (blue). By "status quo," they mean the standard calculation method without caps. As you can see, this puts PFDs estimated at over $3,000 per year through FY2029—assuming no legislative action somehow derails things.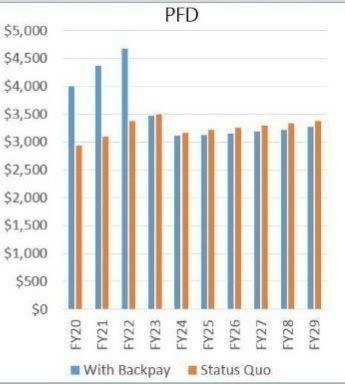 A second PFD projection table was presented to the Senate Finance Committee in April 2019 to show what enacting SB103 would have meant for the PFD amount and public service funding. SB103 sought to split the then 5.25 percent draw taken via SB26 50/50, with 50 percent going to the state, and 50 percent to PFDs. That would have eliminated the use of the long-standing traditional statutory formula currently being ignored.
SB103 never made it out of committee, but similar bills persist. This table also projects PFDs to stay above $3,000 through FY2028 ("1982 Formula" is the current 5-year average approach).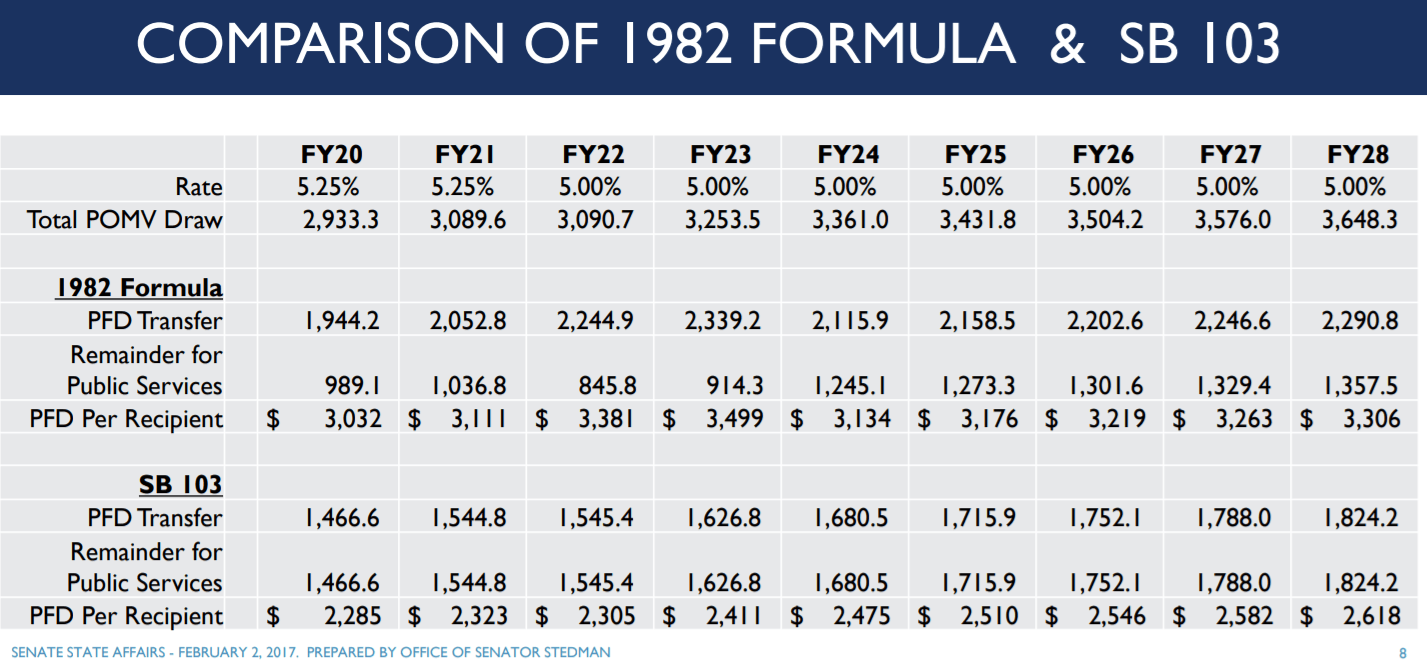 The 2023 PFD filing season opened January 1st and closed at 11:59 PM on March 31. You can check the status of your application, update your address, or change your direct deposit account information online on the myPFD website.