Dessert—it's what I do. Well, it's what I always volunteer to bring to family gatherings, because I love sweets, and as a result, I'm pretty good at making sweets. This year at our Mother's day bbq I had planned some delicious dark chocolate cake with ganache, cheesecake and strawberries in layers, but alas, I forgot to get all the ingredients. I live kind of in the backwoods, so a drive to the store is not a 5-minute ordeal for me. It takes 30 mins in drive time alone. I did have brownie mix and no-bake cheese cake mix though, so I decided to see if I could make a cake from brownie mix and something like frosting from cheesecake mix. The first thing I did was check the Google Gods for recipes.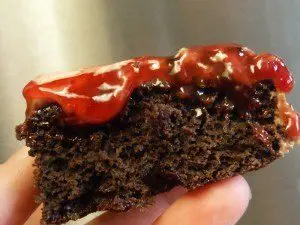 Notta. Really? No one has tried to make cake using brownie mix before? I saw lots of recipes for the opposite, cake mix to brownies, but none brownie mix to cake. I figured that could either mean it couldn't be done or people just like brownies more than cake. Either way, challenge accepted.
So, logically, the first thing I needed to know as a novice baker was the difference between brownie recipes and cake recipes, or cake mixes and brownie mix.
The consensus seemed to be that brownie mix contained more fat and less leavening. I decided on switching the oil for no-sugar-added apple sauce to reduce fat, the water for milk (as I had done this before and gotten more cake-like brownies), used two eggs rather than 1 (as the box suggests for cake-like brownies) and added 1 tsp baking powder for additional leavening. I was a wee bit worried as I would not have time for a do-over.
After setting that to bake I set my noodle to the frosting, and you know, why can't no-bake cheesecake be frosting? It's already not cheesecake really. So, I just added about ¾ cup of Ghirardelli chocolate cocoa to it before blending to make it chocolate. (We buy Ghirardelli in bulk
for mochas).
I was happy to see my brownie mix did indeed rise like a cake, albeit quite dense, and turned out a very chocolatey and moist. Challenge, complete.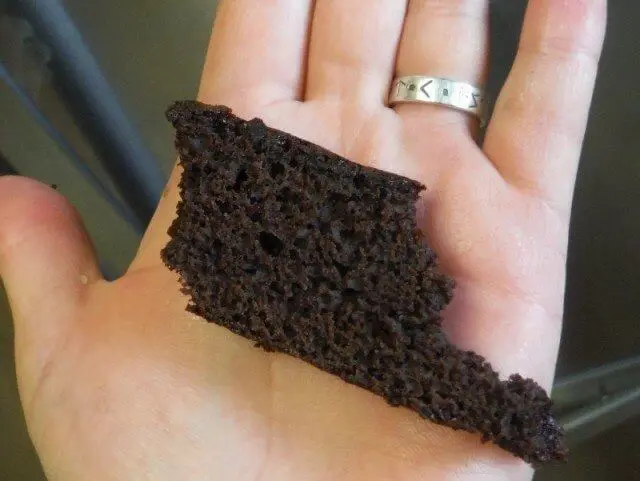 Seeing how this turned out it would be an amazing layer cake or for use in shaped-cakes and 3D pans where a firmer cake is preferred but you still want a good moist flavor. I didn't have any chocolate to make a drizzle or glaze to cover that semi-unattractive looking strawberry layer (it was a pack included with the cheesecake) so I used just Hershey's syrup. It made an odd effect on top. If I made this again, I'd do two rounds, place that strawberry in a middle layer with some of the cheesecake, and cover the top in a dark chocolate ganache glaze after frosting.
Here's some more pics of the texture
Anyway, wanna try it?
Ingredients:
-One box Ghirardelli Dark chocolate brownies
-1/2 cup non-sugar-added apple sauce (the lunch cups are perfect sized)
-1/4 cup milk
-2 large eggs
-1 tsp baking powder
-One strawberry no-bake cheese cake mix
-3/4 cup Ghirardelli cocoa
Instructions:
Preheat oven as directed on brownie mix. Make brownie mix using apple sauce in place of oil, milk in place of water, and add both eggs and baking powder. Mix well and bake as directed for your pan size.
Make cheesecake filling as instructed on box, but add ¾ cup cocoa before mixing.
Frost cooled cake, add strawberry topping, and chocolate drizzle if desired.
Super. Freakin. Simple. Just how I like it.