Cheesecake—what could be better? Cheesecake with three kinds of chocolate and berries—triple chocolate triple berry cheesecake—that's what. Generally, I'm a baker cheat, so even having made a dessert for like every event I've ever attended, I had never made cheesecake from scratch. I decided to take that plunge this Thanksgiving, but not just any old cheesecake recipe would do, I wanted an easy cheesecake recipe that also had some serious wow factor. I wanted people inventing adjectives for how much they liked it. So I read, oh, I dunno, 50+ cheesecake recipes and their reviews. I wanted to single out
aspects that made a "good" cheesecake recipe and then squished them together. The result was nomulish (I thought I'd start the word making.)
So, what do you need for this triple chocolate triple berry cheesecake recipe?
Ingredients:
Crust:
You can do a basic Oreo-crumb crust, but my eldest is allergic, so I used crushed chocolate teddy grams. Alternately, I did a brownie crust on my other T-day treat, dark chocolate Chambord torte, and that would be a divine choice as well if you don't what to mess with messy crumbs.
For the teddy gram route, my crust for a 9-in spring form pan was about ¾ a box, crushed, then mixed with melted butter until moist (about ¼ cup). Here is that mixed to give an idea of constancy, and then baked to show it gets prettier.
Filing:
-10 oz milk chocolate chips
-1 1/3 powdered sugar
-3 Tablespoons Cocoa powder (I prefer Ghirardelli)
-16 oz (2 boxes) Cream cheese softened
-4 Eggs (room temp)
Some prefer bittersweet chocolate nibs or dark chocolate. I used milk chocolate chips, because I had a huge bag on hand.
Berry layer:
-1 cup chopped strawberries
-1 cup raspberries
-1 cup black berries
-Granulated sugar
I used fresh. I have never tried this with frozen, if you do drop us a comment on how it worked.
Topping:
-3/4 Heavy cream
-8 oz. dark chocolate chips
How do you do this?
Instructions:
This is kind of a multi-step program.
First, make your crust. Simply combine the crushed bears with the butter and press into the bottom of your spring form pan. Bake at 350 degrees for roughly 9 minutes or have your alternate crust choice from above ready. Leave the oven at 350.
Next, combine all three berries in a bowl, toss them in sugar until fairly evenly coated. The pic below is to give you an idea of how much sugar. Set this aside at room temp, it's going to make a juice as it sets.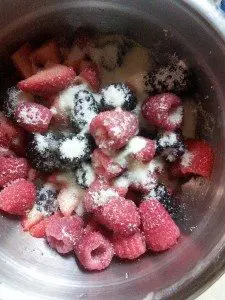 Then, Melt the chocolate chips—or nibs or whatever you chose. I prefer do this in a double boiler on low heat, but I'm told you can use a microwave too. For the double boiler, be sure the water in the bottom pan doesn't touch the top pan and stir frequently. Set this aside also at room temp to cool slightly (don't delay the next steps, it will harden)
Cream your cream cheese, sugar, and cocoa powder together in a large bowl until smooth.
Mix in the eggs on a low speed setting.
Add the melted chocolate chips and mix on low until combined.
Pour the mixture in your pan with the crust.
Fill a pan larger than your spring form with about an inch of water. Wrap the spring form with tinfoil, and place it in this pan. (This is called a water bath, it helps prevent cracking.)
Bake this in that preheated oven (350) until the top appears dry and set. Cook time may vary by oven, in mine it was about an hour.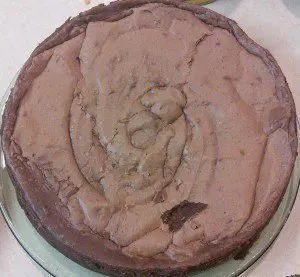 Allow your cheesecake to cool and then place it in the fridge for at least 1 hour. Once nice and cold, you can start the next layer. Heat the heavy cream on medium heat until it begins to bubble, not boiling, but about to boil.
Remove from heat and pour over the dark chocolate chips.
Stir until smooth.
Place some of this topping in a drizzle bottle (about 1/4ish the pan)
Pour the rest on your cheesecake. If you prefer your ganache layer drip down the sides, you'll want to remove the pan before pouring, if you want a clean edge, leave it on.
Cheesecake usually remove easily from the pan, but if you are super worried about sticking you can run a butter knife around the outer rim of the pan.
Pan on or off, once you pour the dark chocolate ganache layer, place the berries on top. Then drizzle the remaining dark chocolate over the berries.
Finally, refrigerate until the ganache is set (about an hour minimum, 24 hours works best.)
How did your turn out? Have suggestions to make this cheesecake recipe even better? We love to hear your thoughts.