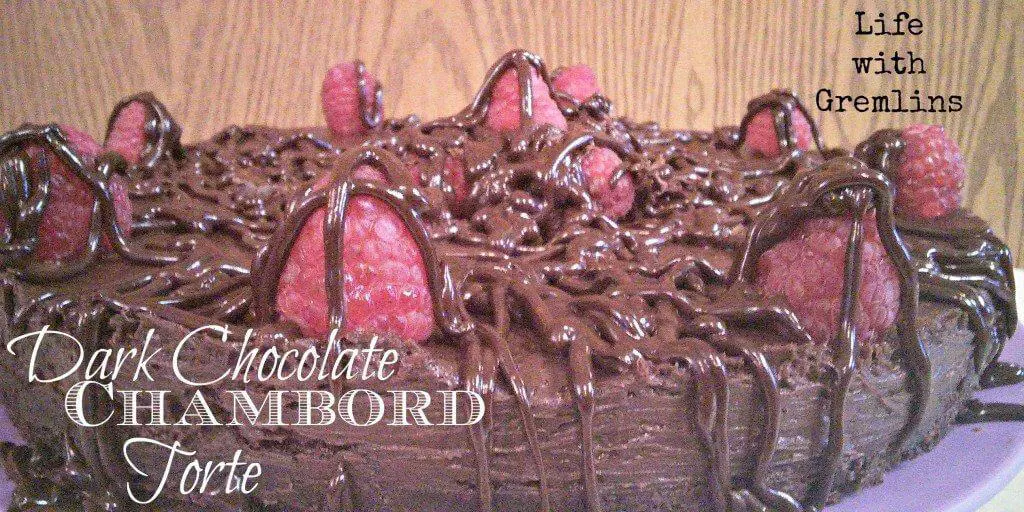 Chambord is delicious in cocktails, but it turns out it's even better in chocolate. Used as flavoring for ganache, truffles, or even frosting it adds a subtle raspberry touch—without artificial flavors, seeds, or texture changes—plus you can drink your left overs. If you've never heard of Chambord, it looks like this: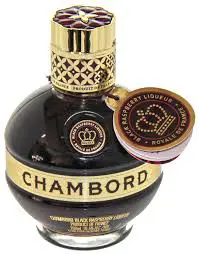 A pretty little round bottle from France, Chambord is made from black raspberries, vanilla, and cognac. It's a thick drink, sort of like a syrup almost. Don't worry about the alcohol content either, as this recipe calls for adding near boiling cream to the chambord, what little was there cooks off.
Anyway, you likely aren't on this page to learn about booze, chances are you wanted the dark chocolate Chambord torte recipe, so let's get to that. This recipe is very simple and looks pretty professional if I do say so myself, minus when I was topping mine the nozzle on the drizzle bottle kept clogging (be sure your chocolate chips have melted entirely) so my pattern was all shakey. I'm sure your Chambord torte will look better, and I'd love to see your pictures too.
What do you need?
Ingredients:
Crust:
-Brownie mix (and the eggs, oil, etc needed to make it)
You can either make yours from scratch or use a box mix. I used a box and the recipe for brownie cookies so the crust would be a little more firm and easier to pick up.
Chambord Torte layer:
-1 3/4 cups cream
-16 oz dark chocolate
-1/3 cup Chambord
For a sweeter flavor you can use milk chocolate rather than dark, or a mix of half dark, half milk for a the middle ground.
Topping:
-Fresh raspberries
-1/4 cup heavy cream
-3 oz dark chocolate chips
I admit, I kind of eyeball this part as far as the chips. This is just about 1/3 your average chocolate glaze recipe. As you're mixing this, you want it thick enough to drizzle. If you're feeling really lazy, you can even buy pre-made chocolate drizzling sauce in the coffee isle.
How do you do this?
Instructions:
Begin by baking your brownie layer as directed in a 9-in spring form pan. You can turn the oven of afterwards, the rest of this recipe is no bake. Be sure to grease the bottom of the pan so your cake will release later. There's no need to grease the sides higher than the crust.
While your crust is cooling. Heat the 1 3/4 cup heavy cream on medium heat until it has begun to bubble slightly, but is not boiling (just before boiling).
Remove from heat and pour on top of the 16 oz of chocolate. Stir until smooth. Add 1/3 cup Chambord. Stir until smooth again.
Pour on top of brownie crust.
Place the entire pan in the fridge overnight.
The next day, place your pan on a large can. Use a blow dryer to heat the full circle of the pan. You'll see the torte releasing from the pan as you go. Once you've made it all the way around, just open the spring form pan and it'll slide right off.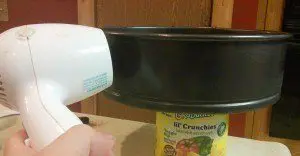 Decoratively arrange raspberries on top. You can also go for an all over layer like I did in this triple chocolate triple berry cheesecake. Just raspberries or even raspberries and black berries would be wonderful. With a full layer you may want to toss the berries in sugar and let them it a bit, it will make a fruit-juice topping.
Finally, heat ¼ cup heavy cream as instructed above for the filing, pour it atop the chocolate and stir until smooth. Fill a drizzle bottle and well, drizzle on the torte.
When removing this from the pan for plating, if the brownie sticks a bit, run a large flat spatula underneath.