Surprisingly, of all the hotly debated parenting topics, spanking takes the cake. It's not very good cake either. The fact is, while both sides may have scientific sprinkles on their piece, neither side has enough. Parents, non-parents, and the bakers themselves could argue until they were sick, but in the end, no one would be "right," in the justified, 100%, indisputable way required to call someone else a bad parent, and not just end up sounding like an ass. Personally, when my cake doesn't have enough sprinkles, I opt for a brownie. OK, maybe I'm just hungry and you can forget the baked-goods analogy here, but the point is, I spank, and I'm still an awesome mom with remarkable kids.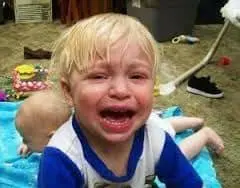 This is how.
Finding a middle ground:
It's beyond me why in regards to spanking parents feel you must always spank or you must never ever spank, as if you may spontaneously combust if you veer from the typical disciplinary styles some likely over-priced parenting book presents. I spank my toddlers, just like my parents did me, but not as a regular form of discipline. Spanking is reserved for misdeeds that could result in injury or death to my children or someone else. Spanking means this is serious, you-don't-do-that-ever-again business. My kids know if they are getting spanked, what they did was not OK in any way, shape or form, ever. They are never spanked without explanation. All forms of discipline come with a verbal conversation about what was done, and why it was wrong. Spanking is never hard enough to leave physical marks, and always done with the hand. It's shock factor, not pain.
Why it's good to be the middle mom or dad:
The advantage of playing the middle man is you get the best of both sides — you get all sprinkles.
The main issue with never spanking is what are you going to do when your toddler decides time-outs don't matter, challenges your authority and starts doing things more dangerous than just not picking up his/her toys? When he/she is running into the street or repeatedly hits a playmate in the face with a toy on purpose? You don't have a last resort, a harmless way to shock-the-holy-living-misbehaving out of your toddler. Those who don't ever choose to show their children they are, in fact, the boss, may find they aren't always the boss. In most cases, after you've spanked once, the mere threat can stop dangerous behavior.
The main issue with always spanking, for everything from not eating at dinner to playing with knives, is your child may learn violence is the answer to all life's problems. He/she may begin to believe the person that hits the hardest makes the rules and might just start hitting back. Worse, by overusing spanking, you eliminate its effectiveness. If you had cake every single day, cake would no longer be a treat. In the same sense, if you spank all the time, it's routine, ordinary, and no longer shocking.
In either case, spanking older children is unnecessary. Toddlers sometimes need shock-value discipline. They lack the reasoning skills and memory to understand and remember when something is dangerous; the spanking stands as a strong deterrent, while the explanation builds the know-how, which later prevents the act when the child is older.
It's also important to note that there is a big difference between spanking and abuse.