What's That?
Life with Gremlins is a glimpse into the world that is parenting for those planning to expect, expecting, or who are already expecting a toddler not to destroy their house—offering a look at life as a parent and help with life as a parent including a full interactive "book" of women's health, conception, and parenting articles.
Why?
…Because I said so.
I welcome questions, requests, and even just idle conversation. If for some reason you're too shy to comment publicly you can contact me personally with the contact form below, on Facebook, or by email at thatlady@lifewithgremlins.com. If you're curious who the person in personally is, meet "we."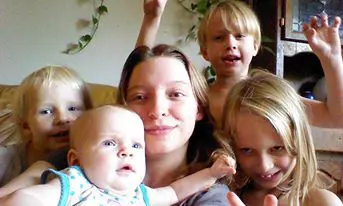 This is the "we" of Life with Gremlins, 37-year-old mother of four and self-proclaimed valiant protector of the grey-area of parenting out to prove to the universe that there is no right or wrong way to parent. I am aware we is plural, and me is not, but you know, maybe someday I'll feel comfortable enough to add more writers.
I ditched a 9-to-5 in 2008 after the birth of gremlin one hoping to stay home and raise him while also supporting my little family via writing. I wrote. I earned. I succeed. I got tired of contract work, and sometime later Life with Gremlins was born. Between all that 11 years of marriage, a mortgage, a divorce, a few degrees, and three more children happened, but I doubt you care about that.
What qualifies me to run a women's health and parenting website?
Those degrees I mentioned were not in something relevant like child psychology or even English or journalism. Nope. I'm a business major who also briefly thought she wanted to be a medical assistant so ended up with that certification too. The content of Life with Gremlins is inspired by real life. By handling three boys and one-tougher-than-they-are little girl 24-hours a day. By struggles with love, infertility, conception, depression, indecision, loss, and self-doubt. Their merit is in my experience woven neatly into impartial research. I pride myself on knowing that any fact found on this website can be cited and supported. That no opinion is ever stated as fact or better than another, because your life is not mine. Your children are not mine, and my opinions are not those of everyone. I hope that this site helps somebody else, someplace, at least once.
Need something written?
I do still do contract work from time to time on request. Life with Gremlin's also occasionally supports sponsored posts and/or product reviews. These must be relevant to our readership and will be truthful and accurate. I do not review items I have not tried. I do not provide positive reviews for payment. Please don't ask. I can be contacted at: thatlady@lifewithgremlins.com.