There are plenty of guides out there that claim to offer sound advice on the best bottles for breastfed babies, but the fact is there is only one person who can tell you the best bottle for your baby, and that person is your baby. I have four children, two of which were given a bottle while breastfeeding just for the occasional sitter, and two who required supplementation at a younger age due to growth issues. Each child preferred a different bottle.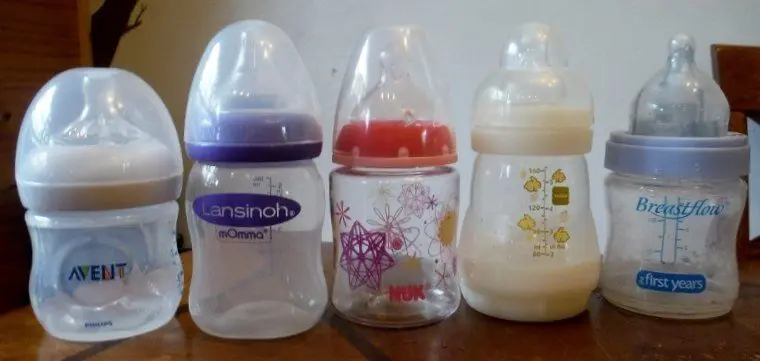 Generally, your best bet is to just try one that looks good, and if your baby rejects it, do some trouble shooting. For example, I found the first bottle I gave baby four (new this March) had a flow that was too fast for her. So, I went on Amazon and bought one of each of the available bottles designed for breastfeed babies. Then I checked the flow rate on each using their slowest flow nipple, found the slowest one, and tried that bottle for her. It worked like a charm, and I am now successfully breastfeeding and bottle feeding together. However, I might not have had to buy so many bottles if I'd known a bit more about what was on the market, so while I may not be able to tell you which is "best," I can offer a short review of each.
What makes a bottle best for breastfed babies?
Bottles for breastfed babies are usually designed with a wider top and nipple that more closely mimics the breast. They often attempt to create a more natural flow where the baby needs to nurse to get milk rather than it just dripping out due to gravity as well. Many also have unique orthodontic nipples. You can read a bit more about bottle differences here.
In my sampling of the best bottles for breastfed babies, I had some perquisites. All of the bottles in this review are:
-Relatively inexpensive. I placed a $10 cap on each bottle (Yes, there are bottles that run more than $10 each!) This did rule out several commonly suggested bottles such as the Tommee Tippee, Medela Calma, Munchkin Latch, and Adiri NxGen.
-Simple to clean and assemble. This is why you won't see the often recommended Dr. Brown's bottles on my list. I learned with my past children all those components just get lost and are a pain to clean, so a ton of multiple parts was a deal breaker for me.
So, what made the cut? (Alphabetically ordered, not by "best" to "worst.")
Avent Natural Flow
Breastflow by the First Years
Comotomo
Lanisoh mOmma
MAM Anti-colic
Nuk Advanced

Note: Prices and reviews are as of July, 2018.
The best bottles for breastfed babies reviewed:
Price: 4 oz. $6.47

Amazon rating: 4.5/5 from 541 reviewers
Most common complaints: Odd shape, causes gas
Most common praises: Trusted brand, nipple does not collapse on itself
My take: Avent is a brand most people know and trust, and I have used their bottles with my kids in the past, so I had high hopes. The flow on the slow nipples for these is in the mid-range for the bottles I tested, a steady drip when tipped upside down.
I will agree with many reviewers that the shape is a bit awkward. These bottles are short and fat, but wider at the tops than they are at the bottom. This makes storing them in the sides of diaper bags hard, and holding them sort of–weird? Maybe it's just because this isn't a common bottle shape. I did also note I had to burp, and often, with these. My baby would actually stop nursing and begin fussing, get burped, continue feeding, and so on until the milk was gone. She doesn't typically need burped during feedings, after yes, but not during.
Price: 5 oz. $8.33
Amazon rating: 3.5/5 from 187 reviewers
Most common complaints: Leaks, milk is trapped between nipples and wasted
Most common praises: Slow flow, reduced air intake
My take: I have no idea why so many folks said these have a slow flow. These actually had one of the fastest flows of all the bottles I tried. I'm talking a steady stream when tipped upside down, no need for suction at all. They gagged my slow-feeding booby baby, but may be ok for a baby who prefers a faster feed.
These bottles also do have a double nipple. There is an insert (easy to wash vs Dr. Browns) as you can see in the pic that creates a second nipple within the first. This section fills with milk with an aim to reduce air intake. It does do that, but as this compartment never really empties, it also makes telling how much your baby has consumed difficult and can waste milk, which is particularly annoying if you are pumping. I did not note any leaking, unless of course they were tipped upside down.

Price: 5 oz. $12.99
Amazon rating: 4.5/5 from 684 reviewers
Most common complaint: Frosted color makes reading measurement marks hard, falls over easily/hard to store, expensive
Most common praise: Mimics breast including let down, easy to hold
My take: This is actually the bottle my baby chose. They have a very slow flow, even when tipped upside down there is only one small drop every few seconds. The, albeit weird, round shape keeps the milk at the top of the bottle, so very little air is taken in while nursing. My baby at 3 months even is able to hold these herself. She's a boob squeezer and seems to enjoy the soft-squish silicone material they are made of.  It can be difficult to angle these so the last about oz of milk can be drained while feeding though.
Sadly, technically Comotomo shouldn't have made my best bottles for breastfed babies list, as their regular price is over $10 per bottle ($12.99). I caught them on sale when I bought the bottles for my test. This does make a good point, if your baby won't take any of the more affordable bottles, trying some on the higher end of things one at a time may pay off.

Price: 5 oz. $7.99
Amazon rating: 4.7/5 from 74 reviewers
Most common complaint: Flow is too fast
Most common praise: Nipple doesn't collapse, lean shape makes for easy storage
My take: What breastfeeding mom doesn't know the name Lansinoh? Their nipple creams are a life saver. Honestly, it was that name recognition that led me to try these. They don't look much different than your typical $1 department store bottle, and reviewers are spot on when saying even the slow flow nipples are not so slow. These were the second fastest flow of the bunch. Surprisingly though, despite ditching the common wide design bottles for breastfed babies have, if these would have had a slower flow I think they'd have worked. She tried to use them. She seemed to like the shape of the nipple, but just couldn't handle how fast the milk came out.

Price: 5 oz. $6.99
Amazon rating: 4/5 from 45 reviewers
Most common complaint: Leaks, tricky assembly (could be why so many feel it leaks)
Most common praise: Truly anti-colic, orthodontic nipple good for breast to bottle
My take: These, the Nuk Advanced, and mOmma bottles all had about the same flow with a slow flow nipple. They drip rather quickly when tipped upside down. This bottle comes apart into three pieces: the nipple, body, and bottom. If you fail to properly attach the bottom, they leak, a ton. It can be tricky to get that bottom on right, and it needs to be taken off for proper cleaning. My baby disliked the fast flow anyway, but I'd not have kept up with these just because of the leak risk. I have enough messes to deal with.

Price: 5 oz. $6.97
Amazon rating: 4.4/5 from 68 reviewers
Most common complaint: Not durable, hard to clean
Most common praise: Orthodontic nipple good for breast to bottle, attractive designs
My take: Nuk isn't exactly designed for breastfed babies in particular, but they worked quite well for me in the past. Now, I will note the Advanced model has a new nipple, and I wasn't impressed. They were the first brand to offer human nipple-like shaped orthodontic nipples to my knowledge, and the older style was awesome.
The new nipples land in the mid-range for flow rate on a slow flow nipple with a fairly fast drip, but not a steady stream, when tipped upside down, but are a pain to clean. These nipples also have air vents to help prevent colic, but I wouldn't say they are any better than your average bottle. If you want to try Nuk, I recommend the classic orthodontic nipples–which are also cheaper.
Overall, if I were trying these with another child, and needed to rank my test bottles as far as the best bottles for breastfed babies, I'd say from best to worst: Comotomo, mOmma, Nuk (classic), Nuk Advanced, MAM, Breastflow. This may not hold true for your baby.
Note: This review of the best bottles for breastfed babies was not paid, though there are affiliate Amazon links throughout. These bottles can be purchased elsewhere. If you choose Amazon, and are pregnant, check out their baby registry which offers a 10% discount (15% if you are an Amazon Mom), all of the bottles listed here are also Prime eligible for free shipping (there is a free trial for this.) As an added bonus, Rakuten regularly offers 3% cash back via PayPal for Amazon Baby items.