The average baby uses 8 diapers a day (more in the early days, less as they get older). The average child is in diapers about 30 months. That's around 7,200 diapers per kid—when you ignore the ones they waste by doing things like diapering the cat. Naturally, this makes ways to save on diapers a great topic for parents to study up on. After 4 kids (3 of 4 now diaper-free. Hurray!) I've found aside from the occasional discount diaper grocery store score, Amazon Family is the cheapest and most convenient way to save on diapers. However, you can actually save even more on diapers from Amazon with some simple tricks.
First, how does Amazon Family help you save on diapers?
Amazon Family, formerly known as Amazon Mom—way to go Amazon for recognizing parental equality there, dads buy diapers too—is an extension, so to speak, of Amazon Prime. Amazon Prime is $99 per year and comes with free two-day shipping, access to Amazon's movie, Kindle book, and music library, and some other odds and ends most people don't care about, and neither do we because this article isn't about Amazon Prime, it's about ways to save on diapers with Amazon Family. If you're not sure you want to commit to $99 a year right away, you can get a 30-day free trial to give it a try.
Amazon Family itself adds:
-20% discount on diapers and pull-ups with free shipping
-A 15% baby register completion discount and welcome box

Side note, the registry discount can be used to get a discount on baby and toddler items even if you aren't pregnant, but only once. You simply add an imaginary baby with an imaginary due date within 60 days of the current date, add the items you want, wait 14 days, and presto, 15% off qualifying items on your list. You can also add new items at any time, even when your discount is applied. After you spend $10 on any item on your list, you get the welcome box which includes samples or trials of things like wipes, diapers, baby shampoo, etc.
Maximizing your 20% diaper discount to save even more on diapers:

The 20% discount on diapers from Amazon Family is easy to use. You simply search the diapers you want, select "subscribe and save eligible" in your left side bar, and take your pick. You don't need to subscribe to extra items to get this discount, but if you subscribe to 5 items, you do get 15% off all your subscriptions. This can be a great way to save on baby wipes. I add cheaper items like toothpaste to my order and save more than I spend on those items this way.
Now, next you want to watch for coupons below diapers. The major brands such as Pampers, Huggies, and LUVS all very regularly offer percent off or dollar off coupons that say they, "apply only to your first order." Most might assume that means you can only use them once, but you can receive your first order, cancel it, reorder the same product or if you aren't brand loyal a different product with the best discount, and use the coupon again.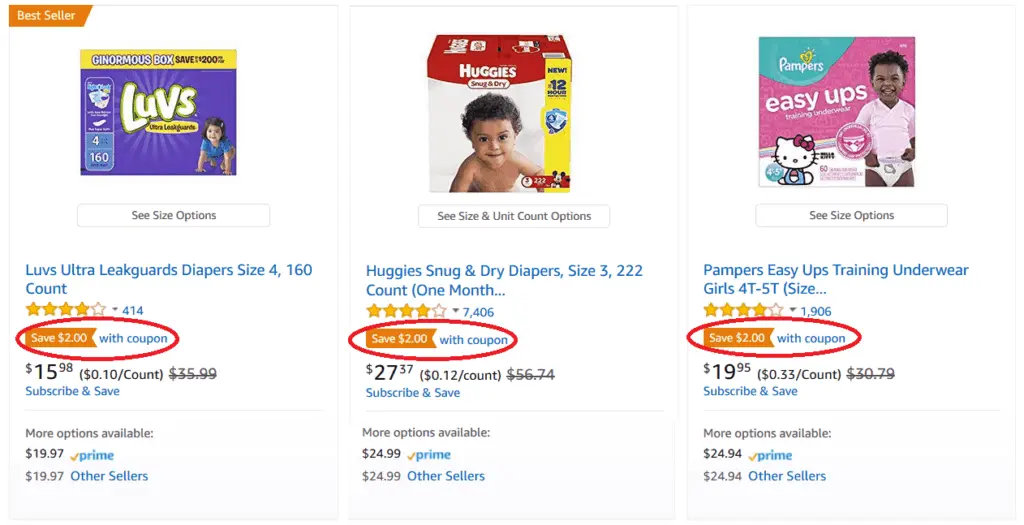 Here's an example of my savings one month. I ordered Pampers Swaddlers Size 3 180 count. Regularly, this box is about $50. My Amazon Family 20% off saved me $10.22, then I clipped a 30% off coupon which stacked saving $15.33, equating to $25.55 total (free shipping) or 14 cents per diaper.


Another month I canceled, reordered Huggies with a $2 off coupon. Original price $34.39, 20% off $6.88, minus $2, $25.51 for 192 diapers or 13 cents each. You can keep doing this every single month.

Utilize cash back options to save on diapers:
Once you have your diaper coupon trick down, you can also get cash back on your order. Amazon offers both a store card and a credit card, both of which offer 5% back for Prime members. If you use this card, and pay off the balance right away (which is easy with online payments), you just saved 5% more on your diapers. If you don't want to open another card, using your credit card of choice with rewards is another option, but most are not as high as 5%.
Additionally, because this cash back option doesn't require you click through a special referral link, you can double up and get more cash back on occasion with Rakuten (formerly Ebates).
Rakuten is one of the few cash back sites that offers cash back on Amazon, but unfortunately, their categories rotate and baby is not always offered. I do see it pretty regularly through the year though at 3% back. I usually will check which categories they offer before my order, and if baby isn't one of them, opt for Amazon Smile instead to make a donation to a local charity. Note, you can't use Amazon Smile and Rakuten. You must visit Amazon through the Rakuten portal to get cash back if your category is offered. Rakuten offers cash payments via Paypal quarterly. They are legit, I have been paid every single time.
As you can see, if you take the time to search out coupons, then add in some cash back, it equates to some serious savings on diapers. If you have any other tips, we'd love to hear your advice in the comments below.